The Chino Hills, CA community is spear heading protest and possibly legal action against the state and local utilities of California Public Utilities Commission (CPUC) to allow Southern California Edison (SCE) to place 198 foot tall towers with 500kV transmission lines in a 150 foot easement directly behind their homes and in their backyards.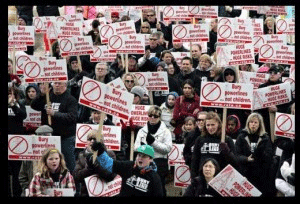 The community is gathering forces and helping educate each other on not only why it is not aesthetically appealing to have these very large towers near their homes but they are all learning why the amount of EMF or electromagnetic smog near them can cause many health problems like leukemia, emotional problems, skin irritation, and many other forms of cancer and health issues.
Help EMF Science and these other communities combine forces to learn what are the steps we all should take to battle the "powers that be" and create a plan to understand better power line dangers, cell phone tower risks, and cell phone radiation use health risks also.
Contact us or these local communities to see what can be done to prevent unwanted dangerous power line and cell towers from being installed near homes and schools in your neighborhood.
Learn More at EMF Science's Community Page – "Join The Fight"