The Supreme Court of Italy has affirmed a ruling granting worker's compensation to a businessman who developed a tumor after using a cell phone for 12 years. This is the first time that a high court —in any country— has ruled in favor a link between mobile phone radiation and tumor development.
Innocente Marcolini, a financial manager at an industrial plant in Brescia in northern Italy, used cell and cordless phones for five-to-six hours a day for 12 years. Then one morning ten years ago, Marcolini, who was 50 years old at the time, sensed an unusual tingling in his chin while shaving. He was soon diagnosed as having a benign tumor on the trigeminal nerve, which controls facial muscles and sensations.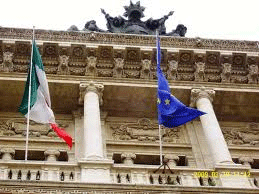 Marcolini filed for workers' compensation alleging that his wireless phones were responsible for the tumor. At first, his claim was rejected. But, in December 2009, the Court of Appeals in Brescia reversed that decision and now, on October 12, Italy's Supreme Court affirmed the Appeals Court's ruling. No further appeals are possible.
"Marcolini wants people to know about the health risks associated with cell phone radiation," Riccardo Staglianó told Microwave News. Staglianó, a reporter for La Repubblica, a major national daily newspaper, chronicled Marcolini's story in his book on cell phone risks,Toglietevelo Dalla Testa, published earlier this year. The title of the book is hard to translate into English —it's something like Get It Out of Your Head. Staglianó explained that his book tries to warn the reader not only to keep the phone away from the brain but also to reject the "fake reassurances" from parts of the scientific community that there are no health risks.
Indeed, it's easy to see the decision as a battle between ICNIRP and ICEMS and their competing views of electromagnetic health hazards. ICNIRP does not recognize any risks associated with long-term, chronic exposures, especially those associated with tumor promotion. Cancer is not a concern, according to ICNIRP. ICEMS, on the other hand, sees large uncertainties and advocates precautionary policies to reduce exposures when possible.