Irene Klotz, Discovery News
Nov. 24, 2008 — When space shuttle astronauts dispatched NASA's Compton Gamma Ray Telescope into orbit in 1991, scientists figured they would learn more about supernovas, black holes and other phenomena that blast off high-energy rays.
They never expected to uncover gamma ray flashes coming from Earth itself.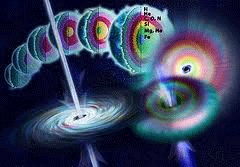 "Occasionally they saw these very strange events," said NASA's Doug Rowland, with theGoddard Space Flight Center in Greenbelt, Md. "They were very short, relatively weak compared to supernova events and they seemed to be coming from the Earth."
Other than manmade nuclear explosions there had been no known sources of terrestrial gamma rays, Rowland said.
Follow-up studies confirmed the discovery and left scientists scrambling for an explanation. A new mission, called Firefly, is being developed to test the leading theory: terrestrial gamma ray flashes are caused by lightning.