"Join the Fight" – say no to power lines, cell towers, and
other EMF sources near your home or school.
Current Spotlight: Communities In A Battle For Safety In Their Neighborhood. (Power Lines, Cell Towers, Power Stations, & More)
1. SAVE THE OZARKS.ORG (Arkansas Counties)
(inspiration point near white river)
Multiple Counties in the Ozarks areas of Arkansas. For the Citizens who oppose SWEPCO's new 345 kV transmission line from SWEPCO's Shipe Road Station near Centerton, Benton County, AR to the proposed Kings River Station NW of Berryville, Carroll County, AR
Visit Their Website: – http://www.savetheozarks.org/
Comments from the "Save the Ozarks" team – Please help us spread the word about our fight against SWEPCO/AEP. Our website is www.SaveTheOzarks.org and Fb is Save The Ozarks. We need all the press we can get on our battle to prevent the decimation of over 800 acres of property along a 50 mile swath through the pristine Ozarks. SWEPCO proposes routes for their new 345kV lines that will cross and contaminate the White and Kings rivers. Eureka Springs, AR is under direct attack and will be devastated.
 VICTORY FOR CHINO HILLS, CA EMF BATTLE – 7-15-13
2. CHINO HILLS, CA COMMUNITY  – ***( AS OF 7-15-13 CHINO HILLS, C A COMMUNITY WINS ITS BATTLE WITH THE POWER COMPANY)***
THIS IS GREAT NEWS AS VERY FEW OF THESE BATTLES HAVE EVER BEEN REPORTED AS VICTORIES AND WE WOULD LIKE TO CONGRATULATE THE COMMUNITY OF CHINO HILLS FOR TAKING THE FIGHT TO THEM AND STANDING UP FOR THEIR HEALTH AND COMMUNITY RIGHTS!!!! OTHER COMMUNITIES WORLD-WIDE CAN LEARN FROM THIS EXPERIENCE.
The Chino Hills, CA community is currently fighting to stop the installation of 500KV power lines in their neighborhood.
Protesting, writing letters to the state and utilities, these citizens want action to remove these dangerous sources of EMF from around their backyard.
—————————————————————————————————————————————–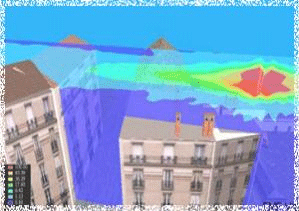 THIS IMAGE IS AN EXAMPLE OF HOW RADIATION FROM CELL TOWERS PENETRATES BUILDINGS AND ENTERS THE LIVES OF PEOPLE LIVING NEAR BY. THIS IS SIMILAR TO HOW POWER LINES RADIATE AS WELL.
Currently there are hundreds to thousands of 
communities world wide fighting with their 
government, utility companies, and cell phone 
companies to prevent the installation of very large 
EMF radiation sources in or around their homes and 
schools.
EMF Science is now helping those communities fight 
back. Send us information about your battle, see 
what others are doing, and lets help put the pieces 
together of what really works to push back against 
these companies that care mostly about profit and 
ignore the science that tells us these EMF sources.
are dangerous for all of our lives. 
CELL TOWER NEWS AND INFO
CELL PHONE TOWERS: SUPREME COURT TO TACKLE KEY CASE  DETERMINING IF A FEDERAL AGENCY CAN TRUMP CITY, COUNTY DECISIONS
Hearing set tomorrow on Denver cell towers Opposing cell towers
Communication Tower Regulation
High court's cell tower ruling favors cities

Alberta, Canada community confronts their local utility to stop 500KV power lines
Fin
d
cell towers
 and 
broadcast
antenna
 around 
your home, schools, or
workplace.
Great information 

if you are EMF sensitive or are 

interested in your local 

environment. – CLICK HERE