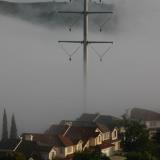 The Chino Hills, CA Community & Residents have been in a battle with the local power company SCE(PCU) to prevent the installation of 500,000 volt power lines in their backyards and near schools and work places. Recently they updated on their Facebook page (Hope for the Hills) that they have a timeline of a plan that may prove to be successful in working with the power company and local government to put the dangerous and monstrous power lines underground. In the deal the SCE(PCU) and local government will review plans to take $76 million in land and allow it to be used to put the power lines underground there.
This is the update from Facebook stating the date and decision to review the underground power line plan. More information on the timeline can be seen there.
Hope For The Hills – Facebook Page
March 20, 2013
Chino Hills officials say city will pay
Testimony by city officials to the PUC indicates Chino Hills is willing to contribute land to Edison, worth about $76 million if the decision is made to underground the power lines in the city.
EMF Science has been following the Chino Hills, CA case since first hearing of it about 2 years ago. We share the information in hope so that others with similar health, economy, and safety issues posed by the ever-changing electrical and communications industries in our environment can be done with reason and safety in mind. More times then not, communities lose battles similar to this. Power and cell phone companies usually have more money and lawyers than a community can defend against.
Feel free to contact us if you have similar EMF related health or environment related issues concerning power lines, cell towers, microwave towers, or otherwise. We would be glad to help spotlight you community fight and provide updates to our EMF Science community members and readers. Read our "Join The Fight" page for more information.
Keep up the fight Chino Hills, we support you and hope success in your battle.